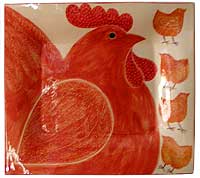 As with our downstairs apartment
, the upstairs apartment offers modern conveniences combined with both style and luxury. The apartment boasts three bedrooms, two bathrooms, a lovely, fully-equipped kitchen with a washer, dryer, dishwasher, an elegant diningroom and a spacious livingroom. Should you wish to sleep eight people, a queen-sized sleeper sofa in the livingroom makes this possible.
The atmosphere inside the apartment with its fascinating collection of antiques and artwork exudes charm and character. All the floors are polished pine, with the exception of the back bedroom, which is painted.
Wireless internet is free and there is an iMac computer running OSX provided – or connect wirelessly with your own laptop, smartphone or tablet.
Sometimes you need a break from high-speed technology, so relax on the private deck, or light a fire in the traditional Vermont Castings 'Vigilant' wood stove and spend a cozy evening by the fireside.
All the bedrooms are air conditioned. Two of the three bedrooms are equipped with free-standing units so as not to block up windows.
Remember, we are Pet Friendly, but don't worry if you aren't a pet lover. The apartment is cleaned to very high standards, including using a vacuum that is designed especially for those allergic to animals.
We are very happy to provide Welcome Packs or Welcome Baskets to suit your requirements. These can range from a simple basket of bread, milk, tea, coffee and beverages to more extensive selections, including wine, fish chowders, lobster stew and local gourmet foods. Visit Welcome Packs on the House Information section of the site.
Home | Downstairs Apartment | Upstairs Apartment | House Information | Contact Us | About Rockland | About the Area | Getting Here | Testimonials
Vacation Rentals in Maine: The Captain Zadoc F. Brewster House • 4 Bay View Square • Rockland • Maine 04841 • USA
Tel: 1 207 319 2789 • Email:
info@bayviewsquare.com
• Skype: debencurlew
Site designed, programmed and hosted by Bmarkweb Ltd