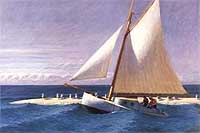 Most international visitors
and long-haul domestic travelers will fly into Boston Logan Airport, which is a three-and-a-half hour car journey to Rockland.
Public Transport options to Maine (and in Maine) are limited, so the most usual course is to arrange for a rental car from Boston Logan Airport for the duration of your visit.
Other options:
Fly on to Portland, or take the train from Boston to Portland, and arrange for a hire car from there.
Take the bus to Rockland and arrange car hire (for excursions etc.) in Rockland itself.
Please contact us if you need help or advice – we are very happy to assist.
Also check out the Getting Here section for further details of transport options.
Home | Downstairs Apartment | Upstairs Apartment | House Information | Contact Us | About Rockland | About the Area | Getting Here | Testimonials
Vacation Rentals in Maine: The Captain Zadoc F. Brewster House • 4 Bay View Square • Rockland • Maine 04841 • USA
Tel: 1 207 319 2789 • Email:
info@bayviewsquare.com
• Skype: debencurlew
Site designed, programmed and hosted by Bmarkweb Ltd